Filter by Category
A to Z and Everything in Between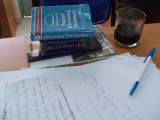 Creative Writing: Writing Your Way to Self Expression - LIFE 2013
with Tina Ann Forkner

Next available session starts Nov 2, 2020 at 5:30 pm

, runs for 4 weeks
Whether you are an experienced writer or new to creative writing, this workshop is for you. Writing on a regular basis is an excellent way to escape life's everyday routine and tap into your creative side. Creative writing can also expand your vocabulary, help clarify your thoughts, and alleviate emotional stress. This class will help writers of all levels discover the secret to expressive writing through journaling exercises, writing prompts, and exploration of different writing forms, including non-fiction and poetry. This class will allow you time to write independently, with guidance as needed, as well as participate in a peer group workshop.
Registration Unavailable
Intro to Digital 3D Design LIFE 2002
Students will learn the basics of digital 3D using a free application called Blender. Students will learn the foundations of 3D rendering including how to model, texture, rig and animate a 3D model for use in a variety of applications including: Art, Game Design, Architecture, Medical Imaging and 3D printing. Please bring a flash drive to save your work. Minimum age of 16. Ages 13-15 with parent registration.
Driver's Education - LIFE 1096
with Jim Wollack

Next available session starts Nov 10, 2020
1 additional session
In-class instruction will meet on Zoom Tuesday and Thursday Evening from 5:30 to 8:30 PM and Saturday 8:00 AM to 12:00 PM.
The driver's education course is a program consisting of 30 classroom hours being held via the free Zoom app, a combination of in-car instruction and simulator driving experience and six hours of observation as set forth by the Wyoming State Department of Education. Simulator time will begin the week prior to the start of the classroom portion of the class. The course meets the basic requirements of the Wyoming Department of Transportation. REQUIREMENTS: (1) one parent must attend the first 1/2 hour of the first class via zoom (for those students under 18), (2) student must have their driving permit prior to registration (3) student must provide their own (insured) vehicle for the one-on-one driving portion of the class and (4) attendance is required at each class for the certificate to be issued. Students who do not successfully complete the course may be eligible for additional instructional time for a fee. For more information on this program please see our website at lccc.wy.edu/ lifeenrichment.
The in-person components of this class requires participants to agree to: