Filter by Category
Foreign Language
Online Registration Unavailable
Conversational Spanish 2 - LIFE 1587

Next session starts Feb 1, 2021 at 7 pm
How would you like to further improve your Spanish speaking, reading and writing even more confidently while exploring the people and cultures of the Spanish-speaking world? This course will afford you the opportunity to enhance your Spanish communication in real-world scenarios. You will be able to improve both your Spanish accent and build your vocabulary along the way! Textbook included and will be mailed.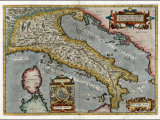 Online Registration Unavailable
Practical Italian 2 - LIFE 1998

Next session starts Feb 4, 2021
Ciao di nuovo! Hello again! How would you like to futher improve your Italian language proficiency? If so, this is the course for you! The aim of this course is to further develop your listening, reading, writing, and speaking skills through in-class communicative activities. This course will expose you to enhanced practical grammatical and vocabulary functions, as well as a review of Italian patterns you have previously studied! This Italian course will also explore contemporary Italian culture that will serve you well not only in class but also in the real world! Text book included and will be mailed.