Filter by Subcategory
Eastern Laramie County Outreach Center (Pine Bluffs)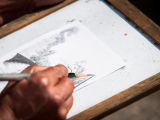 Introduction to Drawing - LIFE 8029
with Pamela Hickman

Next available session starts Jun 7, 2023 at 12:30 pm

, runs for 4 weeks
This introductory drawing course will teach you the basics of shape, form, light, placement, shading and terminology. By the end of the course, students will have completed a composition that will give them the basic knowledge that creates the illusion of 3-Dimensional space on a 1-Dimensional canvas. Students will need to supply their own 8X11 sketch pad.
Summer Art Series - LIFE 8031
with Paulette Dunnam

Next session starts Jul 13, 2023 at 9 am

, runs for 2 weeks
Students will create one framed drawing or painting and one sculpture with air dry clay. All necessary supplies provided. Open to all participants grades K-8.
Full Course