Filter by Category
Financial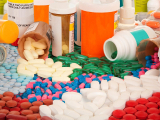 Understanding Medicare Drug Programs - LIFE*1513
with Charlie Simineo

Next available session starts Oct 25, 2021 at 6:30 pm
This class will discuss how Medicare covers prescription drugs under all four parts of Medicare and will provide answers to what drugs are covered under which part of Medicare. A majority of the time will be spent on Medicare Part D. There will be discussion about the penalties for not selecting a prescription drug plan. A portion of the class is spent on how to pick a prescription drug plan and when to do this. For maximum understanding it is recommended that you take the Medicare Basic class.
Savvy Social Security Planning - LIFE*1894
with Sandy Patrick

Next available session starts Oct 26, 2021 at 6:30 pm
1 additional session
Decisions on when to begin your Social Security benefits can have a tremendous impact on the total benefits you receive over your lifetime. Come and learn from two Certified Financial Planner practitioners: How much you can expect to receive; how to coordinate spousal benefits; and how to minimize taxes on Social Security. What are the 5 factors to consider when deciding when to apply? We'll also cover when it makes sense to delay benefits and how to coordinate Social Security with your other retirement income. Come and learn what Baby Boomers need to know to maximize retirement income.
**THIS CLASS IS BEING HELD VIA ZOOM AND WILL NOT MEET IN PERSON.
Medigap and Long Term Care Insurance - LIFE*1297
with Charlie Simineo

Next available session starts Nov 1, 2021 at 6:30 pm
PLEASE BE AWARE: THE DATE FOR THIS CLASS HAS CHANGED FROM NOVEMBER 8TH TO NOVEMBER 1ST.
The first hour will be spent discussing the difference between a Medigap policy and Supplemental Medicare policy. What is the best time to buy a Medigap or a Supplemental Medicare policy? What does the alphabet have to do with a Medigap policy? Why should I care about the deductibles in Medicare Part A and Part B? The second hour of the class will be spent on long term care insurance. We will define terms frequently used, the length of time long term care policies pay and how you know what they pay for.