Filter by Category
Arts & Crafting
Learn the ABCs of Crochet - LIFE 1809
with Pamela Hickman

Next available session starts Jul 15, 2023 at 2 pm

, runs for 6 weeks
Learn the basics of crocheting: identifying crochet language, learn to read a pattern and create a basic easy crochet project (granny square blanket, basic hat, or scarf). Come away with a sense of accomplishment and a basic project of your own. MATERIALS NEEDED: 1 - H (5.00 mm) hook. Practice yarn and an instruction manual will be provided. Yarn for in-class project and pattern selection will be discussed at the first class.
NO CLASS JULY 29
Jewelry and Metals Open Studio - LIFE 2046
with John and Susie Heller

Next available session starts Jun 5, 2023 at 3:30 pm

, runs for 9 weeks
The Open Studio allows students to use the equipment in the Metals Laboratory to create small artistic pieces in silver, copper, and brass (no iron or steel), enamel, repoussé and cut, grind, polish, and set semi-precious stones. The studio not only presents the opportunity to use equipment in a safe environment that the student may not have at home but to also interact with other artists in a synergetic manner. This is not an introductory course and requires a student have some basic knowledge of metalsmith and lapidary. Students are responsible for providing all the components for their projects and their consumable supplies. For instance, saw frames are available but saw blades are not provided. There will be an Equipment Review and a Safety Test students must pass before they will be cleared for the use of the equipment. Lab fees are included in the cost of the class. Class will meet a total of 9 sessions during the printed dates. Instructors will provide a course schedule on the first day of class.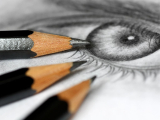 Basics of Drawing - LIFE 2048
with Pamela Hickman

Next session starts Jun 6, 2023 at 6 pm
This will be a fun class for those who always wanted to learn to draw but did not want to commit to the time and cost of a credited class. Basics in shape, form, light, placement, shading and terminology will be taught. By the end of the course, students will have completed one composition that will give them the basic knowledge that creates the illusion of 3-dimensional space on a 1-dimensional canvas. A supply list will be provided at the time of registration.
Full Course