Filter by Category
Music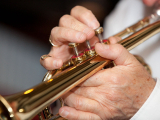 Registration Unavailable
Cheyenne Brass Band
Price not
available
with Staff, Staff

Next session starts May 8, 2022 at 2:30 pm
Membership in this select ensemble is by audition. Members must have prior experience playing brass and/or percussion instruments. Participants gain an appreciation of small instrumental chamber ensemble music through performing and listening. The musical literature focuses on original works and arrangements for brass and percussion instruments from various musical periods. Performances and dress rehearsals are required, and no more than two absences are accepted. Prerequisites: previous performance experience on a brass instrument. Audition is required. Please call Dr. Frank Cook at 307-778-1306 to schedule an audition.
**Class will meet every other Sunday. A schedule will be provided on the first day of class on January 23.
Online Registration Unavailable
Chords Are Key Classes
with Chords Are Key
TO REGISTER AND PAY FOR THESE FOR THESE CLASSES PLEASE CLICK HERE TO BE TAKEN TO THE Chords Are Key Website.
Have you ever wanted to learn the piano or guitar but just don't seem to have the time or money for private instruction? Now we have a way for you to get started on this and you won't have to take private lessons to do it! Chords are Key has been offering crash courses on the piano and guitar through colleges and recreation programs nationally for many years, and now their courses are also available online. Each class starts with a 2.5-hour lecture/demonstration on the use of chords followed by a series of online lessons that you can take at your own pace. A weekly online question and answer session with the instructor is also made available to you at no extra charge. Sign up today and you will be playing in no time at all!