Filter by Category
Creative Writing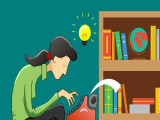 Writing Boot Camp - LIFE*2023
with Mary Billiter

Next available session starts Feb 3, 2022 at 6 pm
The ultimate boot camp for writers. Writing Boot Camp is an intensive, four-week workshop where writers work on a designated project (fiction, nonfiction, memoir). Come prepared to dig into your story and flesh it out. Writers work on scenes, characters and plot through instructor-led evaluation of that pivotal first draft. Focused weekly readings will provide the writer with clear and specific goals to make progress in their work. Additionally, weekly marketing assignments - from query letters to writing a synopsis - will empower writers with the tools to market their completed work. Writers at any stage of the writing process are welcome.
Registration Unavailable
Writing Boot Camp - the Next Level - LIFE*2045
with Mary Billiter
Boot Camp 2.0 turns up the heat to take your writing work-in-progress to the next level! From query letters and submission guidelines to character and plot development, focused weekly marketing and writing prompts will strengthen, build, and refine your writing. By the end of four weeks, writers will be on track with their author and book development.
Pathways to Publication - LIFE*2014
with Tina Ann Forkner

Next available session starts May 2, 2022 at 5:30 pm
There are multiple paths to publication, from traditional publishing contracts with large and small publishers to self-publishing your own book. Which is the best choice for you? Find out in this two-session seminar led by traditionally-published author Tina Ann Forkner, as she explains each pathway to publication. Participants will learn the pros and cons of each publishing option, including traditional and self-publishing. Whether you are looking to acquire a literary agent, submit to traditional publishers, or learn how to self-publish your own novel, this seminar will help you choose a path, as well as teach you how to go about each step. After this seminar, writers will leave better equipped to make the best choice for their manuscript.