Filter by Category
Estate Planning
Estate Planning: Trusts and Estates - How to Best Prepare for Death, Incapacity and Save the Most Money - LIFE 2096
with Shaina Case

Next available session starts Sep 28, 2023 at 12 pm
If wills, trusts, and probates have you going down a yellow brick road saying "oh my," join trusts and estates attorneys, Shaina A. Case and John P. Fritz, as they unravel the "why" behind estate planning and avoiding probate.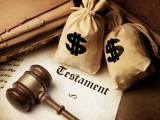 Estate Planning: Beneficiary Designations and Account Titling - When, Why, and How Often You Should Update - LIFE 2094
with Shaina Case

Next available session starts Oct 3, 2023 at 5:30 pm
1 additional session on Oct 5, 2023
Estate planning and financial planning go hand in hand. Join trusts and estate attorney, Shaina A. Case, and Edward Jones advisor, Natalie Collins, as they discuss the importance of account titling and beneficiary designations and, more specifically, under what circumstances and how often beneficiary designations should be re-evaluated.